Emergency Dentist – Mount Dora, FL
Urgent Care You Can Rely On
No one ever plans on experiencing a dental emergency, but it happens to 1 in 6 Americans every single year! Should you or your child develop a bad toothache or break a tooth in an accident, you can get the immediate, professional care you need just by calling your emergency dentist in Mt. Dora, FL at Lacquaniti Dental. We'll schedule you for an appointment right away so we can stop the pain and get your dental health back on track without delay.
Why Choose Lacquaniti Dental as Your Emergency Dentist?
Same-Day Appointments Available
Dentist with 13 Years of Experience
Patients of All Ages Welcome
How to Handle Common Dental Emergencies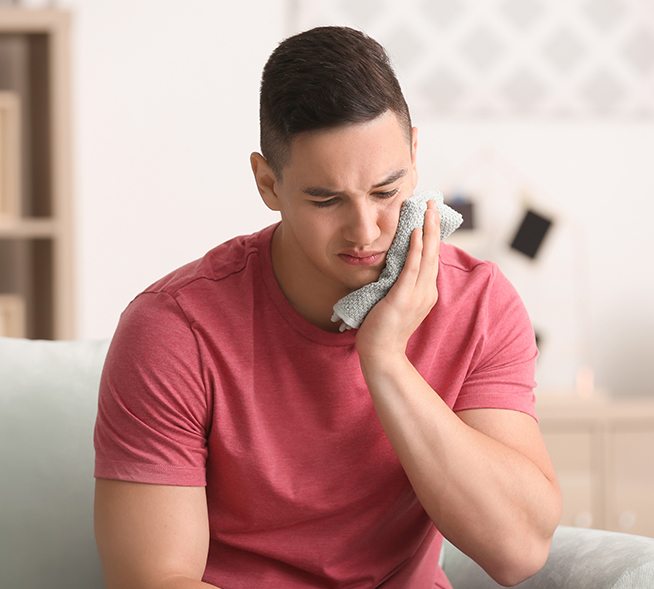 Even if you're unsure whether or not your situation is a dental emergency, it's better to be safe than sorry and just give us a call anyway. On the phone, we'll let you know if you need to come see us, and we'll also provide tips on how to handle your problem in the moment. In the meantime, here are a few things you can do to reduce any pain associated with the most common dental emergencies: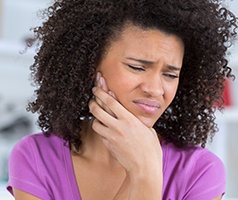 Toothaches
Rinse and floss around the aching tooth, and if this doesn't fix the problem outright, go ahead and take an over-the-counter pain-reliever. A cold compress placed on the cheek or rinsing with warm salt water a few times each hour can help provide temporary relief as well.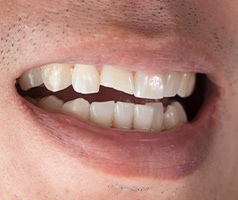 Chipped/Broken Tooth
Use a slight amount of pressure and a clean towel/rag to stop any bleeding, and apply a cold compress to the face for swelling. Gather as many pieces of the tooth you can find, put them in a safe container, and remember to bring them to our dental office. Cover the tooth with some sugarless gum if it has a rough edge.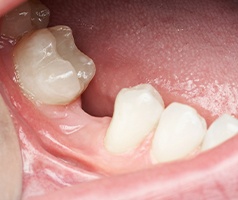 Knocked-Out Tooth
While it is possible to replant a fully knocked out tooth, we have the best chance of doing so if you come to see us within an hour or so of the accident, so be sure to move fast in this situation! Pick up the tooth, give it a gentle rinse, and place it under the tongue to help keep it alive. Otherwise, you can store it in some milk or saltwater.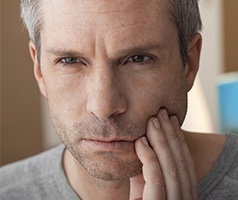 Lost Filling/Crown
Clean off the restoration and attempt to place it back onto the tooth using a small dab of toothpaste. If the restoration is lost or completely broken, use some sugarless gum or dental cement to cover the tooth (which you'll find at any pharmacy). Be sure to come see us to get a full repair as soon as you can.
How to Prevent Dental Emergencies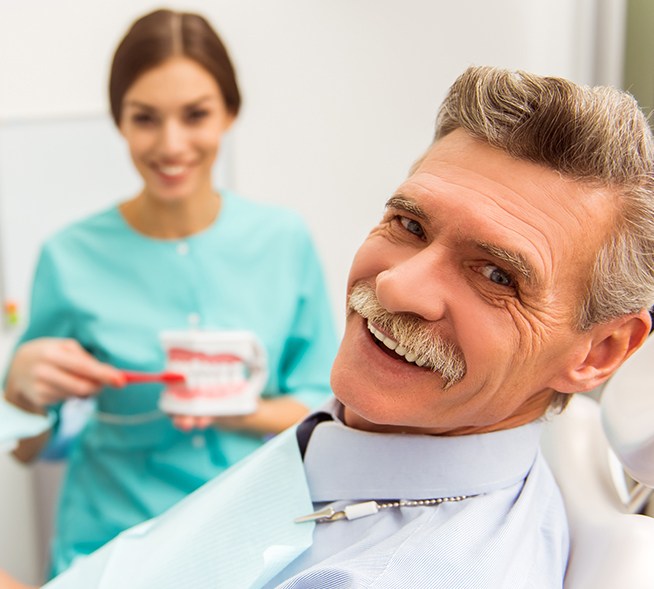 Stay safe whenever you play sports by always wearing a protective mouthguard.
Preserve your teeth and don't chew on things that can wear them down, like ice, pens, pencils, popcorn kernels, etc.
Need to get a package open? Always use the scissors instead of your teeth! Teeth are not tools!
Think you might grind your teeth at night? Ask us about getting a custom nightguard.
Keep up with your twice-a-year checkups so we can find and treat minor problems before they become major emergencies.
The Cost of Treating Dental Emergencies
Emergency dental treatment will always vary from patient to patient because there are many types of injuries, all of which can come in different severities. This means the cost can have a wide range as well. We'll discuss your options and go over all pricing information when you come to see us for an emergency so you're never surprised afterward. We'll do our best to get you out of pain first so you can be clear-headed when you make a care decision!
Dental Emergency FAQs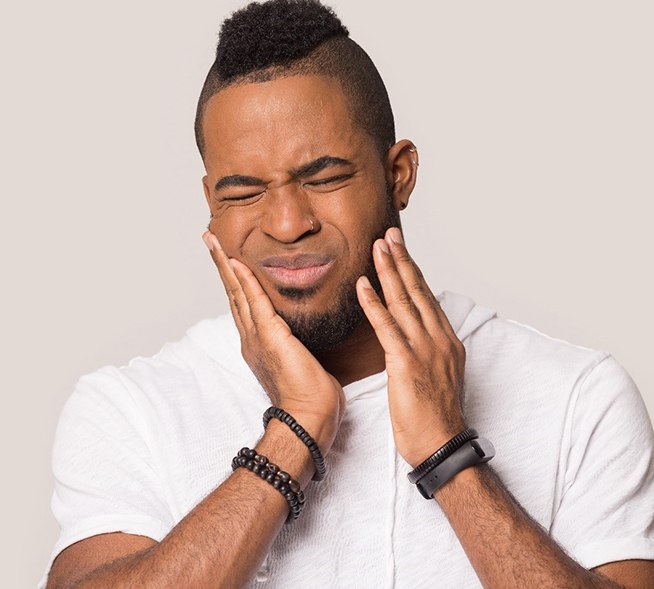 When you need urgent care you can rely on, don't hesitate to call your experienced, compassionate dental team here at Lacquaniti Dental. We will help you assess your situation over the phone and give you step-by-step instructions to manage your situation until you can reach our office. Below, we've gathered some common questions about dental emergencies to help you feel as prepared as possible just in case an emergency strikes.
When Should I Go to the ER Instead of the Emergency Dentist?
Not all emergency rooms have a dentist on staff, so they may only be able to provide temporary pain relief. If you have a dental emergency, you'll almost always save time, money, and hassle by giving your Mt Dora emergency dentist Dr. Laquaniti a call instead of going directly to the ER. However, there are some issues that need to be stabilized at an emergency room before we can repair your smile, such as:
Broken or dislocated jaw.
Oral bleeding that hasn't stopped in 10 minutes.
Swelling in the mouth, face, or jaw that's making it difficult to swallow or breathe.
How Can I Tell If My Toothache Is a Dental Emergency?
Any time your teeth hurt, you should come see us for an appointment. While most toothaches are the result of non-emergency issues like cavities, some may be a warning sign of a serious problem that needs prompt attention. You should call us immediately if your toothache is accompanied by:
Intense pain that's lasted for more than a day.
Darkening or discoloration of the painful tooth.
Sudden numbness in the tooth.
A small, pimple-like bump on the gums.
Signs of infection, such as fever, fatigue, or swelling.
Do I Still Have to Go to the Dentist If My Toothache Goes Away?
Just because your toothache suddenly goes away doesn't mean that you're out of the woods! Remember, your teeth can't heal themselves like the rest of your body, so it's unlikely that the issue causing your dental discomfort has been resolved. If your once painful tooth has gone numb, its nerve may be damaged or infected. Even if it's not bothering you anymore, it can still be in danger of falling out! Be sure to come see us right away so we can diagnose the underlying problem.
Can I Take Over-the-Counter Pain Relievers for a Toothache?
Alongside rinsing with saltwater and applying an icepack, you can take over-the-counter pain relievers to address a toothache. Taking medications like ibuprofen and naproxen are good choices for easing dental discomfort. However, it's important to remember that even if you can manage your toothache at home with store-bought pain relivers, you should still come see us for treatment right away. Over-the-counter products should only be used to help temporarily ease your discomfort until you can reach our office.
Do Knocked-Out Baby Teeth Need Urgent Dental Treatment?
Even though baby teeth are meant to come out eventually, you should give us a call if your child knocks one out suddenly. We'll inspect their other teeth for signs of damage and look at their gums to ensure there aren't any pieces of the tooth still lodged in place. In some cases, we may recommend placing a space saver to keep the neighboring teeth from shifting into the gap and trapping the permanent tooth underneath.
If you or a loved one need urgent dental care, don't hesitate to give us a call. We'll do everything we can to see you for a same-day appointment to get you out of pain and your oral health back on track.