Cosmetic Dentistry – Mount Dora, FL
Look & Feel Great Wherever You Go
Even with a new haircut and stylish clothes, if you feel like your smile is lacking for any reason, you probably won't be that confident about your appearance—it's just that important! Fortunately, whatever aesthetic issues your teeth might have, Dr. Lacquaniti can help with cosmetic dentistry. Stains can be removed, chips fixed, gaps closed, and much more to create the dream look you've always wanted. With her help, your smile will light up every room you're in! To schedule a consultation to discuss cosmetic dentistry in Mt. Dora, FL, give us a call today.
Why Choose Lacquaniti Dental for Cosmetic Dentistry?
Able to Change One Tooth or Your Entire Smile
Professional Strength Whitening You Can Use At Home
100% Personalized Treatments for Each Patient
Porcelain Veneers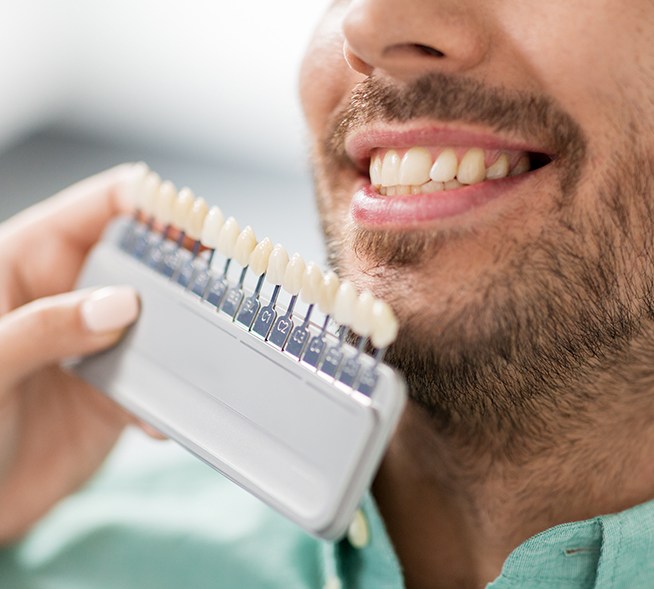 Porcelain veneers are the secret behind many of Hollywood's most stunning smiles, and now, you can get the exact same treatment here in Mount Dora! It involves simply placing thin ceramic shells over the front of the teeth that improve their appearance and cover flaws at the same time. They are entirely custom-made to suit each patient's unique smile and tastes, and the process to get them is painless and only takes two appointments.
Metal-Free Dental Restorations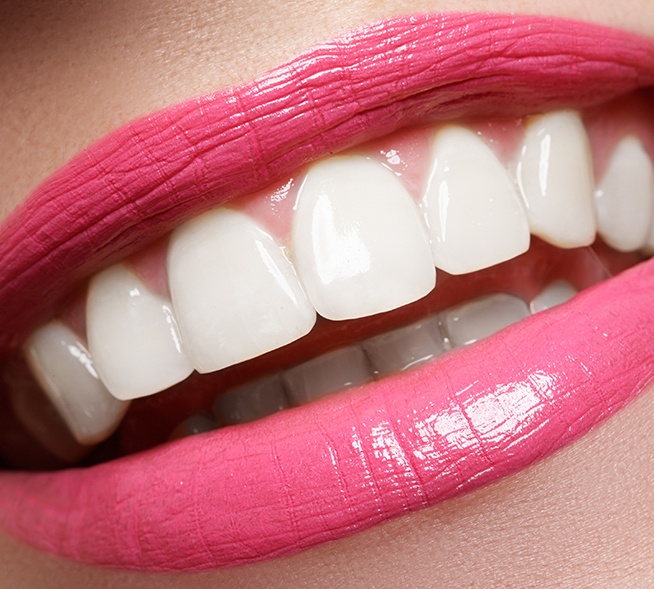 If you need to have a tooth repaired, you shouldn't have to sacrifice your smile's appearance in the process. That's why Dr. Lacquaniti is happy to provide natural-looking, all-porcelain restorations that replicate the appearance of tooth enamel down to the finest detail. These crowns and fillings even reflect light in the same way as real teeth, ensuring that whenever you smile, people will only notice your gorgeous face, not your dental work!
Dental Bonding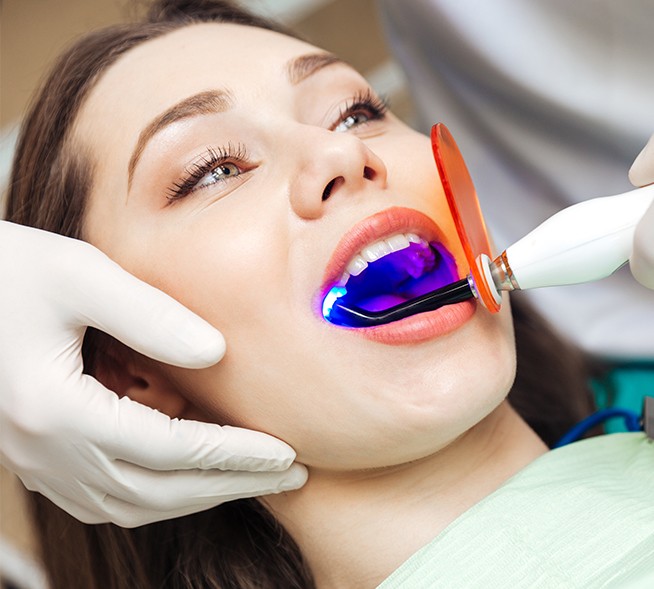 For quick fixes, direct bonding is the best approach. When it comes to a small stain, minor chip, or thin gap, Dr. Lacquaniti can easily cover it with some composite resin and then sculpt it to make a tooth look pristine. The resin is then hardened and polished, and that's it! The entire process only takes about an hour on average, and after that, the results have been shown to last for about 10 years.
Learn More About Dental Bonding
At-Home Teeth Whitening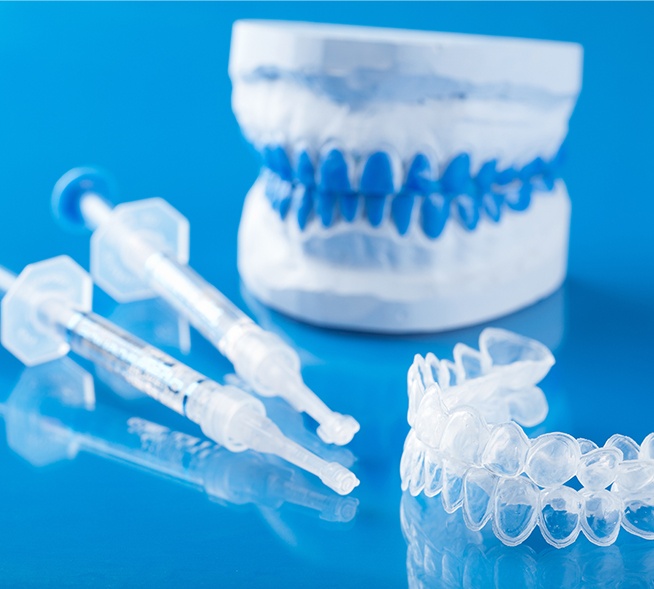 If you want a smile that's six, seven, or even eight shades whiter, you won't be able to get that kind of result from a store-bought product. Instead, we can give you a kit that contains custom-made mouth trays and a bleaching gel that's multiple times stronger than anything you can buy on your own. With just two weeks of daily use, you'll have dramatically brighter teeth, and you'll even be able to give yourself a quick touch-up whenever you need it!
Learn More About Teeth Whitening
Smile Makeovers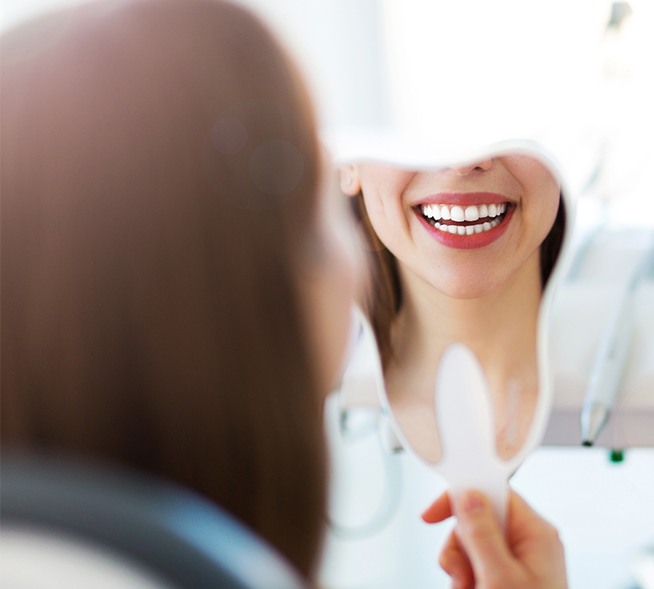 Ready to hit the reset button for your smile? Some patients require multiple procedures to achieve their ideal result, and Dr. Lacquaniti is more than able to put together a plan to make the process as smooth and easy as possible. Every makeover she provides is completely custom and based on a patient's unique goals, so in the end, you're guaranteed to get a smile that attracts attention in the best way possible.
Learn More About Smile Makeovers
Understanding the Cost of Cosmetic Dentistry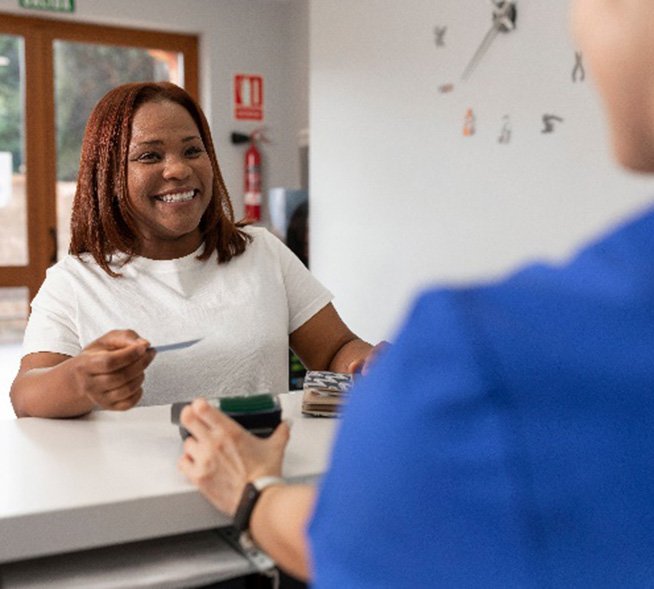 From determining what your dream smile looks like to picking the right cosmetic dentist for you, there are several factors that you need to consider during the process of transforming your grin. Naturally, the cost is an important part as well. At Lacquaniti Dental, our team does our very best to make navigating the financial components of your care easy, starting with a price estimate at your consultation. However, if you would like to learn more general information on the cost of cosmetic dentistry before your appointment, read on!
Which Cosmetic Dental Service Is Right for Me?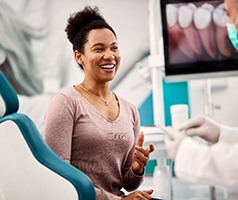 No matter what your aesthetic concerns are, there is a good chance that there are multiple ways to achieve your dream smile. For example, teeth whitening can be fixed with our take-home teeth whitening treatments, dental bonding, or veneers! With this in mind, here are a few of our most popular treatments, as well as some important information to consider when comparing the cost of each.
At-Home Teeth Whitening – Far superior to any kits you'll find at your local store, our at-home teeth whitening treatments are customized to you and utilize clinically-tested, powerful, and safe brightening agents. These are typically more mid-range in terms of cost, but the results can last for a few months to several years!
Dental Bonding – This is one of the most cost-effective treatments available. Plus, there are numerous benefits of this smile-enhancing service, including the fact that multiple small imperfections can be treated at once, the process is painless, and you can achieve your smile goals in just one appointment.
Veneers – Veneers do require a higher upfront investment, which makes many patients second-guess whether or not it's the right service for them. However, they also can last upwards of 30 years! As a result, they may end up being the best choice for your wallet in the long run.
Cosmetic Dentistry Can Be an Investment Worth Making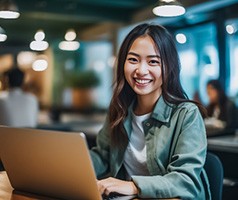 Simply put, cosmetic dentistry has the potential to positively impact more than just your confidence. To begin, when you have a smile you're happy with, you're more likely to floss consistently, visit your dentist every six months for a checkup, and avoid unhealthy dental habits. As a result, your oral health can benefit from something as simple as fixing noticeable stains or chips. Furthermore, there have been multiple studies conducted on job applicants' smiles and the likelihood of them getting an offer. Perhaps not surprisingly, those with whiter teeth were more likely to get an offer (at a higher salary too!). So, if you think you're just investing in the look of your smile, think again!
How to Make Cosmetic Dentistry Affordable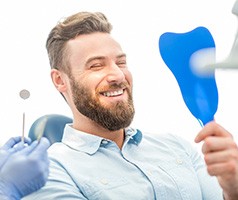 Over the years, CareCredit has helped millions of patients get more affordable preventive, restorative, and cosmetic dental care. That's because they offer payment plans that break down the cost into manageable chunks. If paying for your entire treatment upfront would put a strain on your wallet, then you should consider this financial solution. And, as always, you can let us know if you have any questions along the way.
Cosmetic Dentistry FAQs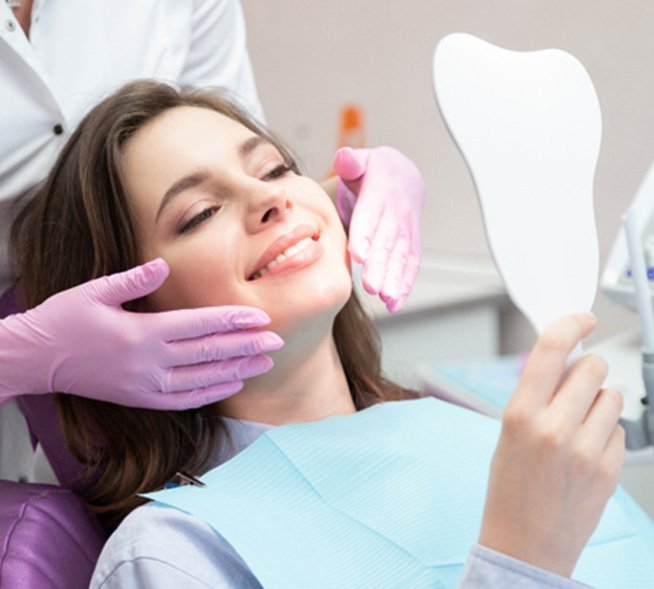 Tired of hiding your smile every time you smile or laugh? You might be interested in transforming your pearly whites with cosmetic dentistry. Of course, we understand you may have a few lingering questions in mind before moving forward with the process. Our team at Lacquaniti Dental wants you to be as well-informed as possible, which is why we've compiled a list of answers to some frequently asked questions below. If you can't find what you're looking for, don't hesitate to reach out for personal assistance!
Is Cosmetic Dentistry Safe?
Absolutely! As long as you're under the care of a trained professional, most cosmetic dental treatments are generally considered safe. However, it's important to remember that not every treatment is right for every patient.
To ensure your safety, we will examine your mouth beforehand to determine which procedures may or may not be right for you. If you have underlying oral health problems, some treatments can pose a risk to your health. For instance, placing a veneer over a decayed tooth could make the decay more difficult to treat later on.
In most cases, any pain associated with the treatment starts to dissipate within 24 – 72 hours. In the meantime, you can use Tylenol (or a generic brand of acetaminophen) to minimize your discomfort. You should also be sure to get an adequate amount of rest.
How Do I Know If I Need Cosmetic Dentistry?
Cosmetic dentistry offers benefits to nearly everyone, and if you find yourself lacking confidence in your smile, it's very likely that you would qualify for it.
Specifically, the most suitable candidates often experience the following concerns:
Stained or Discolored Teeth: Over-the-counter whitening products may not always be effective in addressing tooth stains. However, professional whitening treatments can achieve the desired results.
Chipped or Cracked Teeth: If you want to conceal or repair damaged teeth, you can explore options such as veneers, dental crowns, and other treatments.
Misshapen Teeth: Veneers can be used to mask any irregularities in tooth shape.
By scheduling a consultation with our team, we can effectively assess your needs and provide personalized recommendations tailored to your desired outcomes.
Does Cosmetic Dentistry Hurt?
It's normal for patients who are excited about enhancing their smile to still have concerns about experiencing pain during their cosmetic treatment. We're aware of this, which is why we strive to ensure a comfortable treatment experience for everyone.
The good news is that most cosmetic dental treatments are non-invasive and typically do not require the use of local anesthetic. In cases where reshaping of the tooth is necessary (like with veneers), we will numb the mouth beforehand, ensuring minimal discomfort during the procedure. Keep in mind that while you might experience mild soreness or sensitivity in the following days after the treatment, these effects are generally temporary and should not cause significant discomfort.
Why Is Cosmetic Dentistry So Popular?
In the past, dentistry focused on preventing and treating dental problems. However, recent advancements in techniques and technology have led to the average person having better dental health. Now, with healthier smiles, people can prioritize the appearance of their teeth. Cosmetic dentistry, once exclusive to the wealthy, has become more affordable with flexible financing options like CareCredit. With the rise of smartphones and the desire for flawless smiles, a beautiful smile can enhance your appearance and potentially boost your career prospects. Straight and white teeth make you appear more trustworthy, likable, and healthier, while confidence can open doors in your professional life.