Dentures – Mount Dora, FL
A Reliable Way to Completely Restore Your Smile
Are you missing some, most of, or all of your pearly whites? If so, then you likely understand how difficult this condition can make daily oral habits like eating, talking, and smiling. However, you don't have to settle for living a life with dental loss. Our team at Lacquaniti Dental can effectively replace missing teeth with metal-free dentures in Mt. Dora! With these advanced restorations, which are more natural-looking and longer-lasting than ever before, you'll be able to enjoy your full and beautiful smile again. Read on or give our office a call today if you want to learn more about this tried-and-true tooth-replacement solution!
Why Choose Lacquaniti Dental for Dentures?
Metal-Free Restorations For A Natural Look & Feel
Completely Personalized Treatment For All Patients
Professional, Dedicated & Caring Dental Staff
Who Is a Good Candidate for Dentures?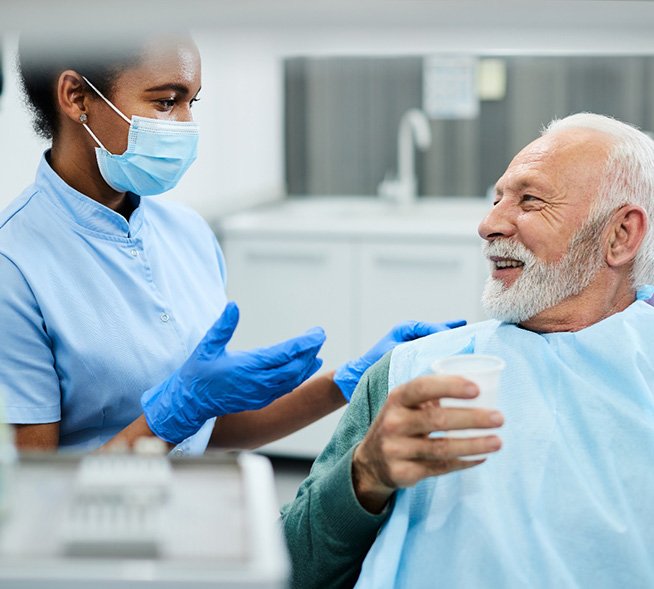 Even if you aren't certain if you're eligible for dentures, you can most likely become a good candidate for the treatment thanks to advancements in dentistry. You'll first need to schedule an initial consultation with Dr. Lacquaniti, our skilled dentist in Mt. Dora. She will assess your oral health, discuss your lifestyle habits, and learn about your smile goals. With this information, and addressing any underlying issues she might detect, she can determine if dentures are a good option for you. If you aren't initially eligible for these restorations, Dr. Lacquaniti can provide you with preliminary treatments to help you, such as periodontal therapy or tooth extractions.
Types of Dentures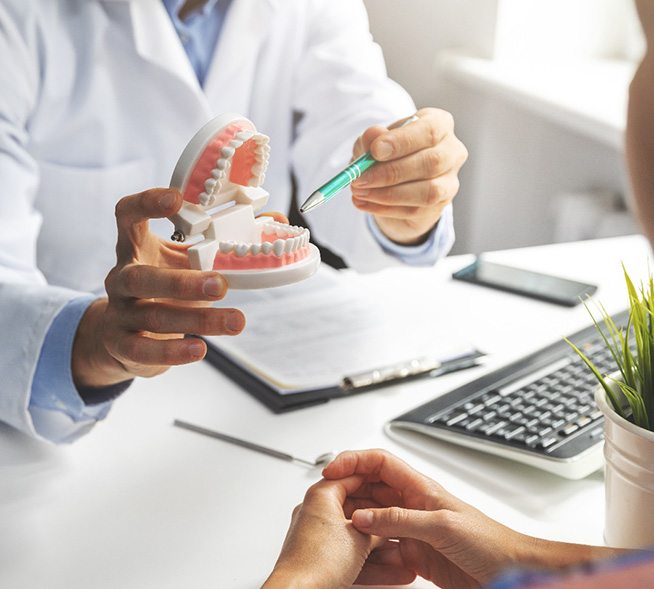 "Dentures" is considered an umbrella term involving multiple types. Here are the typical options you might choose from and what to know about each: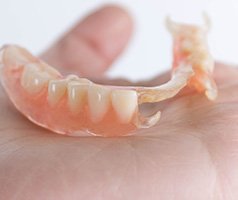 Partial Dentures
Otherwise known as "partials", these dentures are designed to restore some missing teeth on a single arch. This is a good option for patients who are struggling with moderate tooth loss but have retained some or a few of their natural pearly whites. These dentures consist of a gum-colored base that anchors the prosthetic teeth to the gum line via a discreet metal framework.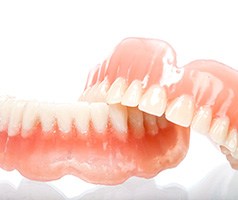 Full Dentures
Full dentures – as the name suggests – can help those who have lost all of their teeth. These are also made with a gum-colored base and custom-crafted prosthetic teeth. They're then held in place via natural suction to the gum line, denture adhesive, or a combination of the two. Along with looking and feeling extremely lifelike, they're also easy to clean and may last several years with proper care.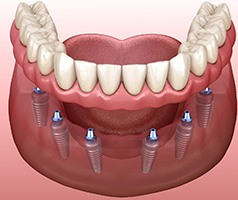 Implant Dentures
Unlike traditional ones, these dentures will be directly anchored to dental implants that are embedded into your jawbone. This state-of-the-art tooth-replacement option can provide a much more secure foundation for your new smile while also preserving your bone tissue and youthful facial shape. You won't have to worry about your prosthetic teeth shifting out of place, and you can enjoy your results for 20+ years depending on how well you care for them.
Benefits of Dentures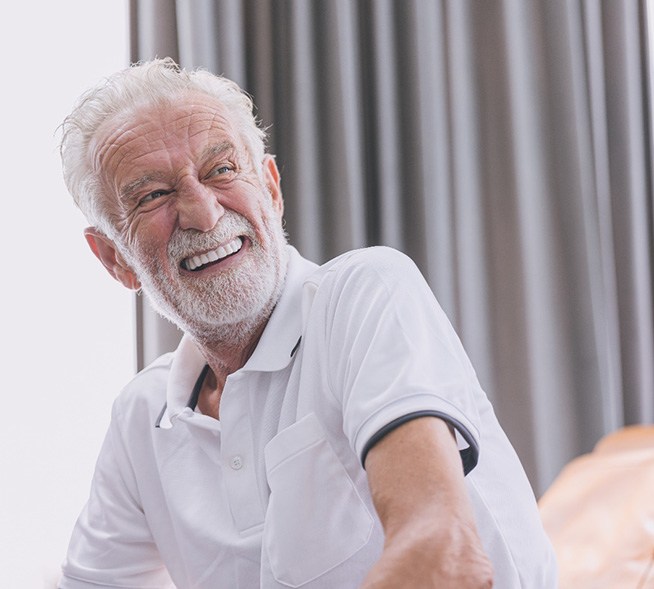 Things like eating and speaking clearly seem to come naturally, but not after you've suffered from tooth loss. Fortunately, missing teeth doesn't need to be permanent. Dentures are a life-changing tooth replacement option for patients who are missing several, most of, or all of their teeth because of the restoration's ability to improve one's quality of life!
Psychological Benefits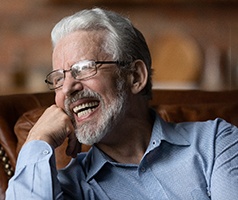 People who don't have any teeth often struggle to accept their tooth loss. This can lead to lower self-esteem. People who are insecure about tooth loss are less likely to engage in social activities and more likely to experience sadness and depression. Fortunately, by restoring your smile with dentures, you can experience increased confidence and self-esteem. Dentures can also reduce anxieties associated with appearance, speech articulation, chewing ability, and more.
Clearer Enunciation
Speaking clearly can become a challenge when you are missing teeth. It's important that your lips and tongue are positioned properly to enunciate your words, and that is much more difficult when you are unable to touch your tongue to your teeth. Dentures act as your missing teeth, therefore improving your ability to articulate your words. With a little bit of practice, it will come naturally!
Improves Nutrition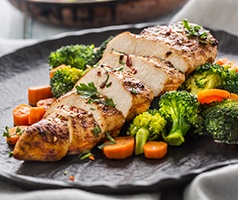 When it comes to healthy foods, they come in a variety of textures. Many fruits, veggies, and healthy proteins can be difficult for you to chew when you're missing teeth. This can lead to indigestion and malnutrition. With an improved ability to chew, dentures can allow for a more expansive diet full of nutritious foods. Ultimately, dentures can help the body to receive essential nutrients needed for optimal overall health.
Preserves Oral Health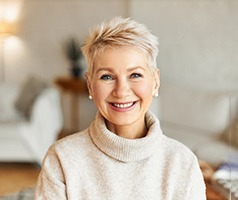 If you still have remaining natural teeth, getting dentures can help to keep them where they are supposed to be. Otherwise, they will shift to other areas of the mouth. Dentures are also able to bear some of the weight of regular chewing, therefore reducing the wear and tear of your remaining teeth.
Expands Opportunity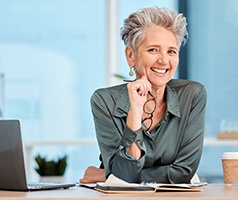 When it comes to making a first impression, your smile is one of the very first things people notice about you, so it doesn't hurt to keep it looking full and healthy. By replacing your missing teeth with dentures, you can enjoy showing off a beautiful, fully functional smile again!
Understanding the Cost of Dentures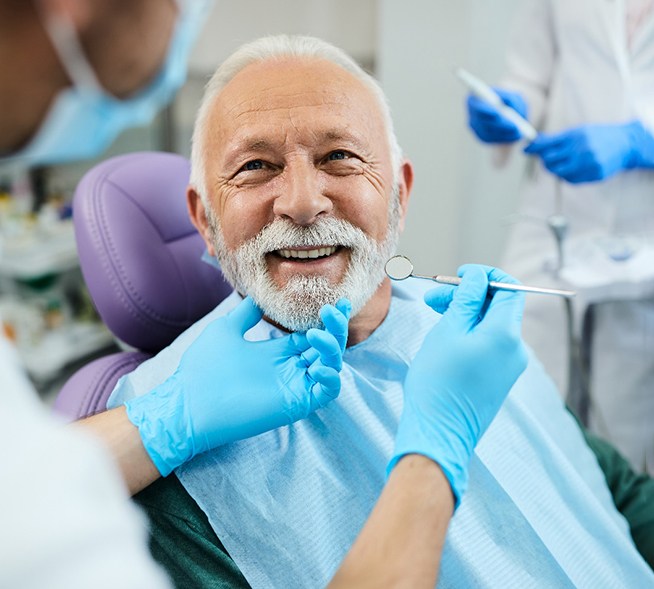 The cost of dentures is different for each person. Not every case is the same, so once you schedule an appointment with our team at Lacquaniti Dental, we can better determine the type of denture you will need as well as how much we can expect your treatment to cost. Once we are able to formulate a cost estimate, we can then discuss your available payment options, one of which is using your private dental insurance, as most companies will agree to pay a portion of the cost.
Factors That Affect the Cost of Dentures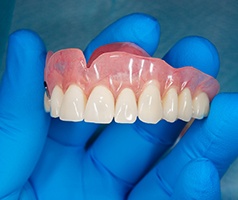 A complete evaluation of your smile is necessary when it comes to determining the price associated with your new smile. Part of our examination will include noting various factors that must be considered when creating the cost estimate, some of which include:
The number of teeth that you are missing
If you require any preliminary treatments (i.e., bone grafting, periodontal therapy, tooth extraction)
The materials technicians will use to fabricate your dentures (typically acrylic and/or porcelain)
Many dentists turn to cheaper materials to help patients save on cost, but the reality is that this decision can lead to more frequent replacements over time. Although you may pay more for higher-quality materials, you'll be glad in the long run, as your new teeth will last much longer.
Are Implant Dentures More Expensive?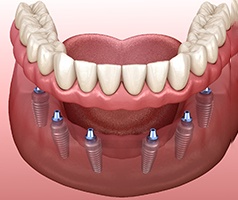 Implant dentures are generally more expensive than traditional prosthetics simply because they fuse with the bone tissues after surgical placement. They're designed to be permanent and long-lasting so that you do not need to have them replaced. They offer greater stability and functionality, and they do not require that you purchase additional products to hold them in place. Their independent capabilities as tooth replacements make them more reliable and as a result, they do require a higher upfront cost than regular dentures.
Does Dental Insurance Cover Dentures?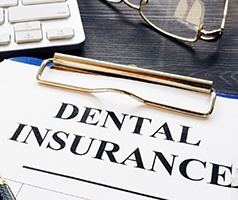 You'll be pleased to learn that most dental insurance companies will agree to pay a portion of the cost associated with your denture treatment. Many companies will pay up to 50% of the total price, which can be a big relief for most patients. At Lacquaniti Dental, you can count on our team to review your plan and help you get the most out of your benefits, helping to keep your out-of-pocket expenses as low as possible.
Other Options for Making Dentures Affordable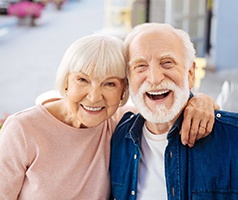 If you do not have private dental insurance but are tired of spending your days without a full set of teeth, you can opt to enroll in flexible financing through CareCredit. This third-party company allows you to pay out the cost of your care over several months instead of taking care of it all upfront. With no surprise fees and low-to-no-interest payment plans, this option can be an ideal option for anyone who is looking to stay within a particular budget while undergoing restorative care.