Meet Our Dental Team – Mount Dora, FL
Experience & Compassion
in Equal Measure
Many of our team members have multiple decades of dental experience, and they all share a true passion for helping our patients improve their health and appearance. Their smiling faces and warm personalities will make any nerves you might have quickly melt away, and they'll ensure your appointments always start on time and run as smoothly as possible. They look forward to meeting you and your family, and you can start getting to know everyone by reading on below.
Jodi
Office Manager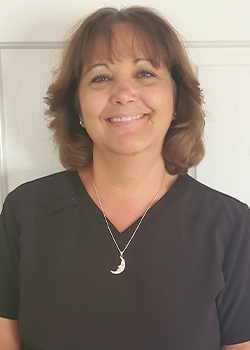 A 4th generation Mount Dora native, Jodi is relatively new to our dental team. She's already thrilled to be learning so much about oral healthcare and helping our patients have smooth care experiences from beginning to end!
Jodi and her husband Byron have been married for over 30 years. Together, they have four sons and two grandsons. Outside of working hours, they are a BIG baseball family and have been involved in travel ball for 20 years and counting. She also really enjoys taking trips to North Carolina and going on Caribbean cruises.
Donna
Front Office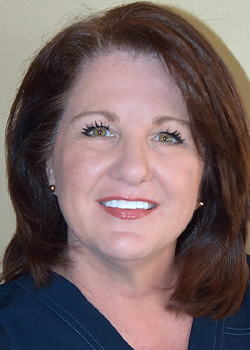 Donna has been part of our dental office for nearly 40 amazing years, and she truly never gets tired of helping others. She studied at Lake-Sumter State College and is certified as an Expanded Duties Dental Assistant. She also has advanced training in radiology.
Originally from Mount Dora, Donna and her husband Mike have a grown son named Chace and a (soon to be) daughter-in-law named Kate. Outside of work, her hobbies include spending time with family, doing paper crafts, and reading. She's also a Blue and Gold Office for the United States Naval Academy and regularly does volunteer work there.
BJ
Front Office/Expanded Functions Dental Assistant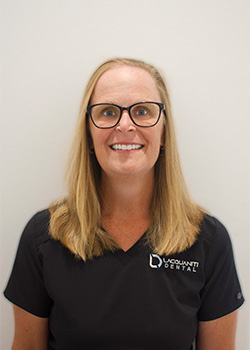 With nearly 25 years of experience in the dental field so far, BJ definitely knows a thing or two about helping patients smile! She studied at Lake Tech, is certified in dental X-rays, and is an Expanded Functions Dental Assistant as well.
A Mount Dora native, BJ is married with two boys and one cat at home. In her free time, you can usually find her long-distance running. She regularly participates in marathons and triathlons.
Nancy
Expanded Functions Dental Assistant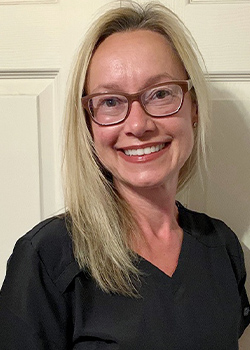 Nancy hails from North Carolina, and her career in the dental field covers over 25 years so far. She has attended both Lake Sumter State College and Gulf Coast Community College. Today, she is an EFDA who's certified in radiology. What she enjoys most about being a dental assistant is helping relieve patients' discomfort and supporting them as they work towards a new, beautiful smile!
At home, Nancy is the proud single mom of two boys. A lot of her free time is spent at the baseball field, where her youngest son plays. She's also currently studying dental hygiene. When she has a spare moment for personal hobbies, she enjoys listening to music and going out dancing.
Kadie
Expanded Functions Dental Assistant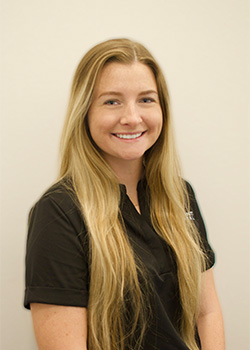 Originally from Umatilla, Kadie studied at Lake Sumter State College. As one of our dedicated assistants, she loves seeing the happy smiles on our patients' faces after they've completed their treatment plans successfully! Amazingly enough, she's never had a cavity herself.
At home, Kadie and her fiancé Ty have a Redbone Coonhound named Gunner. Whenever she isn't busy at the dental office, her top priority is spending lots of time outdoors.
Taylor
Expanded Functions Dental Assistant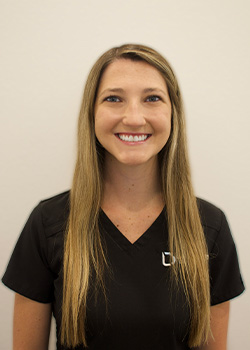 Taylor looks forward to coming to work each day because it means she gets to see each patient's beautiful smile when their treatment is all done! She attended the Academy for Dental Assisting in St. Petersburg, has her EFDA license, and is certified in dental X-rays. She's been an integral member of our team for more than a year now, and she looks forward to many more to come!
Taylor was born and raised right here in Mount Dora! In her free time, she loves going to the gym and riding side by sides. Here's something you may not know about her: she has a dog named Benelli.
Tanya
Registered Dental Hygienist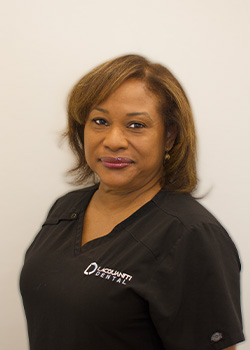 Tanya's career in the dental field covers over 27 years so far, and she works hard each and every day to help patients achieve their oral healthcare goals. She completed the dental hygiene program at the New York University College of Dentistry. She also has a Master's in Public Health with a concentration in Community Health Education.
Tanya is originally from Kingston, Jamaica, and she is happily married. Her siblings and their families currently live in North Carolina, while her mother is close by. Outside of work, she enjoys participating in various athletics events, swimming, supporting the arts, listening to jazz, and traveling.
Falon
Registered Dental Hygienist
As a Florida native, it was only natural for Falon to pursue her studies at Wake Tech Community College. During her time there, she underwent training in everything from OSHA and COVID-19 safety to CPR/AED. For her, the best thing about her job is the one-on-one time spent with her patients. Meeting new people from all walks of life is a perk for her!
Justine
Registered Dental Hygienist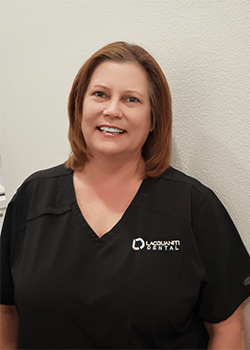 Justine may be relatively new to our team, but she has roughly 25 years of experience in the dental field under her belt! She attended Sante Fe State College, is certified in local anesthesia, and has completed advanced training in recognizing oral manifestations that indicate risk factors for sleep apnea. When asked about her favorite part of her job, she shared that it's developing relationships with her patients and encouraging them to take care of their smiles.
Away from the office, Justine loves spending time with her two wonderful children, her two dogs, and her two cats. Here's something you may not know about her: she used to train dogs in agility and obedience and train horses for Mounted Patrol work!