Dental Implants – Mount Dora, FL
Regain Your Complete Smile
Tooth loss can make life harder in an innumerable amount of ways, causing someone to miss out on their favorite foods or always feel anxious whenever they meet someone new. Thankfully, here at Lacquaniti Dental, we are able to provide an answer that looks natural and can be counted on to last for decades, and to get started, all you have to do is give us a call today.
Why Choose Lacquaniti Dental for Implant Restorations?
Customized Treatment Plans for Every Single Patient
Able to Replace Any Number of Teeth for a Lifetime
Gentle Care That Always Puts Your Needs First
What Is a Dental Implant?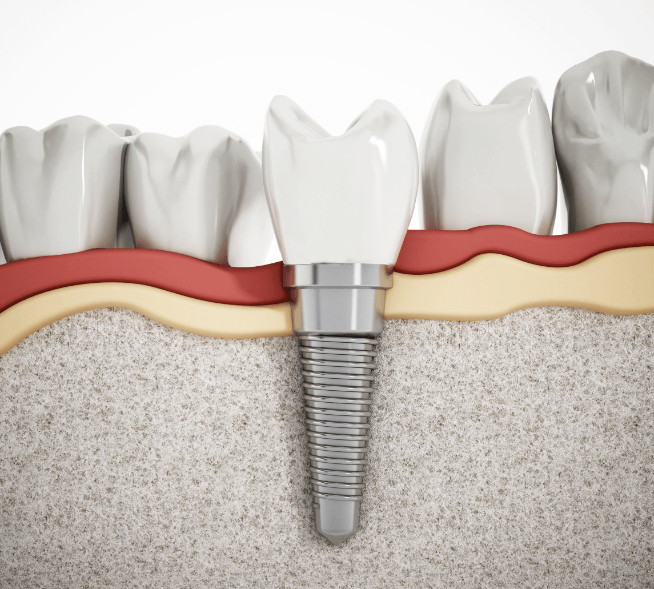 A dental implant is actually a small titanium post, and it's placed directly into the jawbone where a tooth used to reside. This replicates the root structure, and it provides support for a new crown, bridge, or denture on top. Thanks to this two-part structure, dental implants offer a host of benefits that you just can't get with other treatments.
Benefits of Dental Implants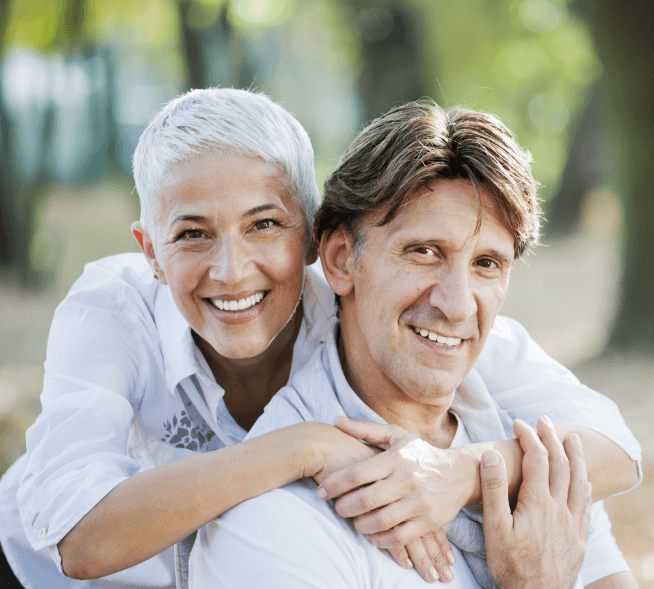 Security: Dental implants are held within the jawbone just like natural teeth, so whenever you speak or take a bite of food, you never have to worry about them moving out of place.
Lifelike Appearance: Unlike regular bridges and dentures, which often have metal or acrylic attachments, implants are entirely self-supporting and topped with all-porcelain restorations, giving them a realistic look that blends into any smile.
Bone Loss Protection: Implant roots stimulate the jawbone and restore blood flow to the area after tooth loss, preventing bone loss that could lead to more missing teeth.
Extremely Durable: While traditional bridges and dentures typically last for about 5-10 years before needing to be replaced, implants sport an impressive 30+ year lifespan.
Are Dental Implants Right For Me?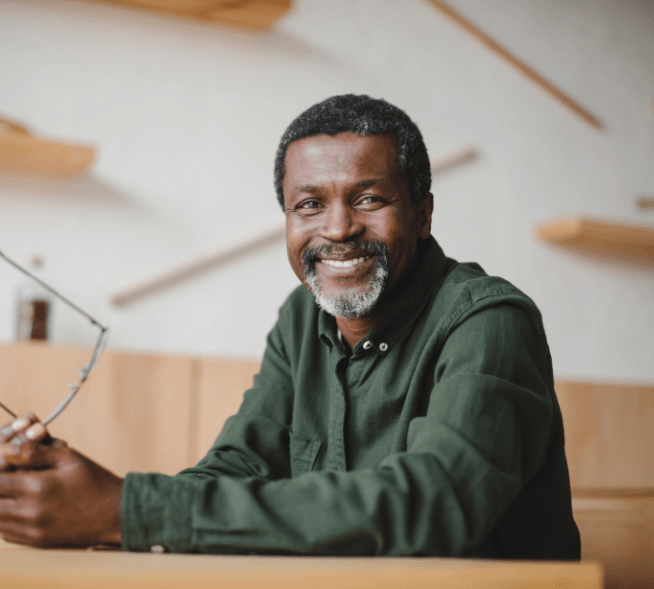 To get dental implants, all you need is good oral health as well as enough jawbone to safely support the new roots. Once these have been confirmed with an exam, Dr. Lacquaniti can go over your options and help you choose which restoration would be best for your needs.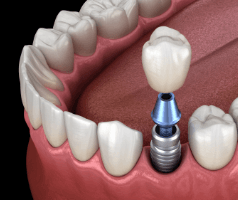 Missing One Tooth
Replacing one tooth with an implant is relatively simple. The post is positioned between two healthy teeth, and this is attached to an all-porcelain crown. The surrounding teeth don't have to be altered at all, making this a more conservative approach compared to a bridge.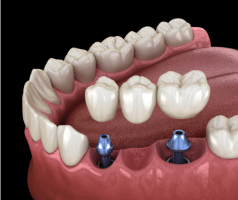 Missing Multiple Teeth
Just 1 to 3 implants can provide support for a bridge or full denture that restores several teeth all at once. Compared to removable prosthetics, these are much more secure, last longer, and have a more realistic appearance as well.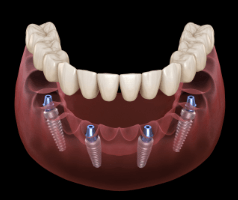 Missing All of Your Teeth
Even patients with complete tooth loss can be good candidates for dental implants. It only takes 4 to 6 well-placed posts to anchor a full denture directly to the jawbone. Implant dentures are smaller and more comfortable than removable ones, plus they allow a patient to have a much stronger bite as well.
Partners with the Best in Lake County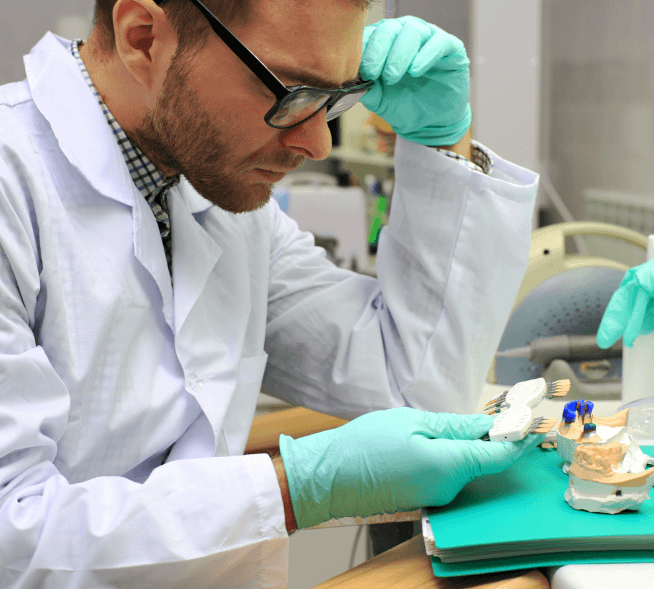 When you get dental implants, the process of rebuilding your smile will start with a minor surgery performed by a local specialist, in which they'll place your implants into your jawbone. This collaborative approach ensures that you will receive the highest quality care and your new teeth will have a firm foundation. After your mouth has healed from the procedure, you'll return to Dr. Lacquaniti so she can place your new restoration on the implant, and at this point, your smile will be ready for the world!
Understanding the Cost of Dental Implants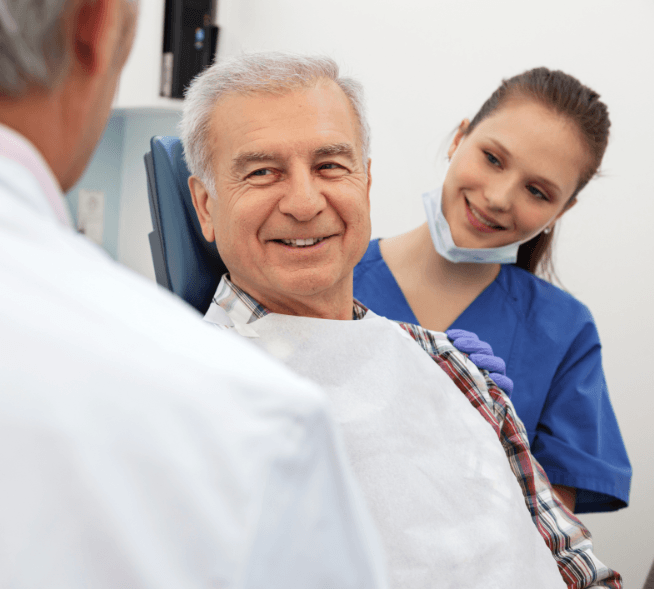 There is no fixed cost for dental implants because the treatment is always personalized based on the needs of the patient. When you come in for a consultation, we'll discuss all pricing information, so you'll know exactly what to expect throughout the process. Dental implants do tend to cost more upfront compared to regular bridges and dentures, but they are capable of lasting a lifetime, which can usually help patients save money over time, as they don't need to be replaced nearly as often (if ever). Our team at Lacquaniti Dental will be here to make your treatment as affordable as possible. Whether it is maximizing your benefits, helping you understand the cost of dental implants in Mt. Dora, or showing you how to enroll in flexible financing, we will make your investment worthwhile and ensure you are pleased with your final results.
Preliminary Treatments & Dental Implant Surgery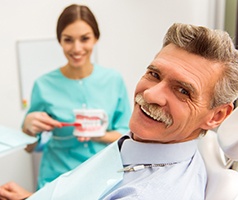 One cost factor many people tend to overlook is the need for preliminary treatment. While not all patients require these services, it may be necessary to undergo a bone graft, tooth extraction, or periodontal therapy to ensure the future success of your dental implants.
Also, your dental implant surgery will be incorporated into the cost estimate. Because Dr. Lacquaniti partners with the best oral surgeons in the Mt. Dora area, you will be required to pay two separate fees: one to your oral surgeon for the surgical placement and one to our office for your customized restoration.
The Parts of Your Dental Implant
From the size and material of your implant to the number of posts you will need and the brand your implant dentist in Mt. Dora intends to use, all of these are considered factors in the overall cost of your dental implant care. When going over the price breakdown with you, we will thoroughly explain why cheaper options are not always better. We'll also explain how the location of your missing teeth can determine if you will require shorter or longer implants. This will also lead to discussions about how many implants you will need to adequately restore your smile. Naturally, one single implant post will cost less than a full implant denture.
In most cases, dental implants in Mt. Dora are made out of titanium or zirconia, and they are made differently based on the brands and manufacturers. Just like cars, each type has its own unique qualities that we will explain in further detail during your initial consultation.
How Dental Implants Can Save You Money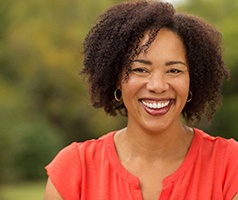 Dental implants are capable of actually saving you money in the long run. While this might seem impossible, the truth is that because of the minimal maintenance and long-lasting durability, they do not require you to spend nearly as much as if you were to move forward with dentures or a dental bridge. For example:
You won't need to buy dental adhesives
You won't need special cleaning tools or products for soaking or maintenance
You will not need frequent adjustments or replacements every 5-7 years as you would with dentures or bridges
In choosing dental implants in Mt. Dora, you will find that you also lower your costs of treatment for systemic issues that can develop as a result of tooth loss. Far too often, individuals have problems with osteoporosis, diabetes, and cardiovascular disease – all of which can shorter your lifespan and require more money to be spent for treatment.
Does My Dental Insurance Cover Dental Implants?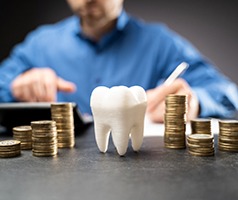 Not all dental insurance companies are the same, so although it is unlikely that yours will cover the cost of dental implants, it may also be that they are one of the few who are coming around to the idea that these prosthetics are worthy of coverage. No matter how your insurance company chooses to handle your claim, they may agree to pay a portion of your preliminary treatment or custom restoration. Our team will be here to file any paperwork and claims on your behalf as well as identify ways to maximize your benefits if possible.
Making Dental Implants Affordable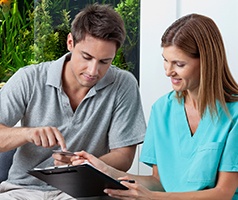 If it seems as if dental implants are not affordable without dental insurance, you'll be pleased to learn that we can help you apply for flexible financing through CareCredit. Their low and no interest payment plans make it possible to break up the cost of your treatment and stay within your budget. With monthly installments set up, you can feel more confident in your decision to move forward with dental implants and ultimately achieve the smile you deserve.
Our team at Lacquaniti Dental is here for you. All you need to do is contact us to schedule an appointment and we will walk you through the process of receiving dental implants as well as the financial side of treatment that can often be overwhelming. But do not worry, as we will take as much as we can off your plate to allow you to focus solely on your oral health and the results you will obtain in the end.
Dental Implants – FAQs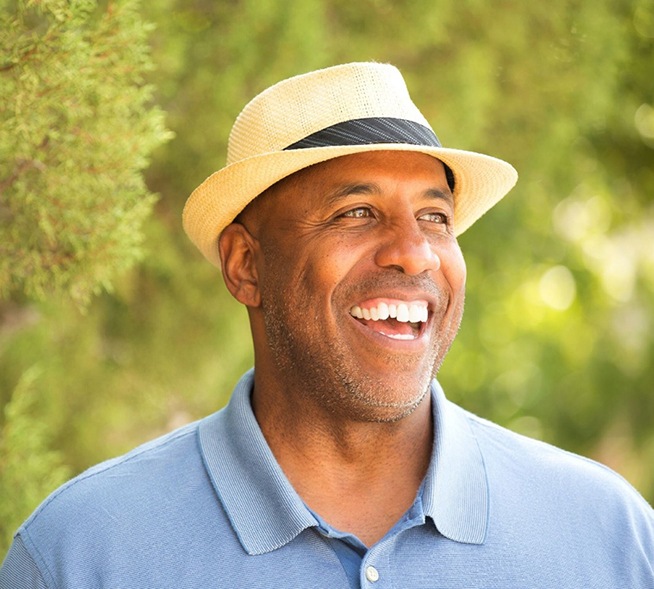 Still wondering whether dental implants in Mt. Dora are right for you? It can be hard to make the decision of how to rebuild your smile after tooth loss. There are so may factors to consider, like cost and the lifespan of your results. However, we firmly believe that dental implants are the best tooth replacement available today, which is why we tend to recommend them more often than alternative solutions. For your convenience, we've collected the answers to some frequently asked questions about dental implants below.
Will My Dental Insurance Cover Dental Implants?
While every dental insurance policy varies, most of them do not cover implants. Our team will be more than happy to take a look at your plan and maximize whatever benefits you qualify for. Even if your insurance doesn't cover the implant placement, it might help to mitigate other aspects of the treatment, such as your custom-made restoration. At our practice, we offer additional financing options like CareCredit to help you fund your new smile.
How Should I Take Care of My Dental Implants?
Because dental implants are so similar to your natural teeth, you can care for them in practically the exact same way. To keep your implants in great shape, it's vital to floss every day and brush twice daily for two minutes at a time. Rinsing with an antibacterial mouthwash each day can eliminate bacteria in parts of your mouth that your toothbrush and floss can't reach. Also, be sure to schedule a checkup and cleaning every six months. That way, your dentist in Mt. Dora can check for any problems with your implants and treat them early on.
Are Dental Implants Safe?
Over the last several decades, dental implants have helped millions of people around the world restore their smiles. They have been researched heavily and they even boast a success rate of more than 95 percent. Because they are made of titanium, a highly biocompatible material, they shouldn't cause any adverse reactions. Before beginning your implant treatment process, we'll make sure you're a good candidate to keep you safe while we rebuild your smile.
Am I Too Old to Get Dental Implants?
Not at all! Once you've finished growing, your age doesn't matter at all when considering your eligibility for dental implants. Instead, we look at other factors, like your oral and overall health lifestyle habits, and jawbone density. If we find any issues that could affect your candidacy, we'll work on solutions to solve them, such as bone grafting to strengthen your jawbone.